Thomas J. Newhouse Artist Designer BSD IDSA
For more than 45 years Tom Newhouse has been designing furniture, lighting, major appliances and other products as the owner/principal of an industrial design firm in Grand Rapids, Michigan. Prior to 1978 he was a member of the corporate design staff of Herman Miller Inc.
Go to Tom's industrial
design website
He holds a degree in industrial design from the University of Michigan School of Art & Design. His design studio practice since the late 70's has focused on environmentally sustainable design solutions.
Tom & his wife Jill live in a low energy consumption, passive solar, earth sheltered, green roofed residence/design studio just west of Grand Rapids, which Tom designed and built in 1978.
He is now retired from his industrial design practice, and has transitioned his studio to fine art, specifically sculpture. He also draws in pencil, en plein air, as he and Jill travel, and he enjoys nature and architectural photography in those travels, and while hiking and kayaking.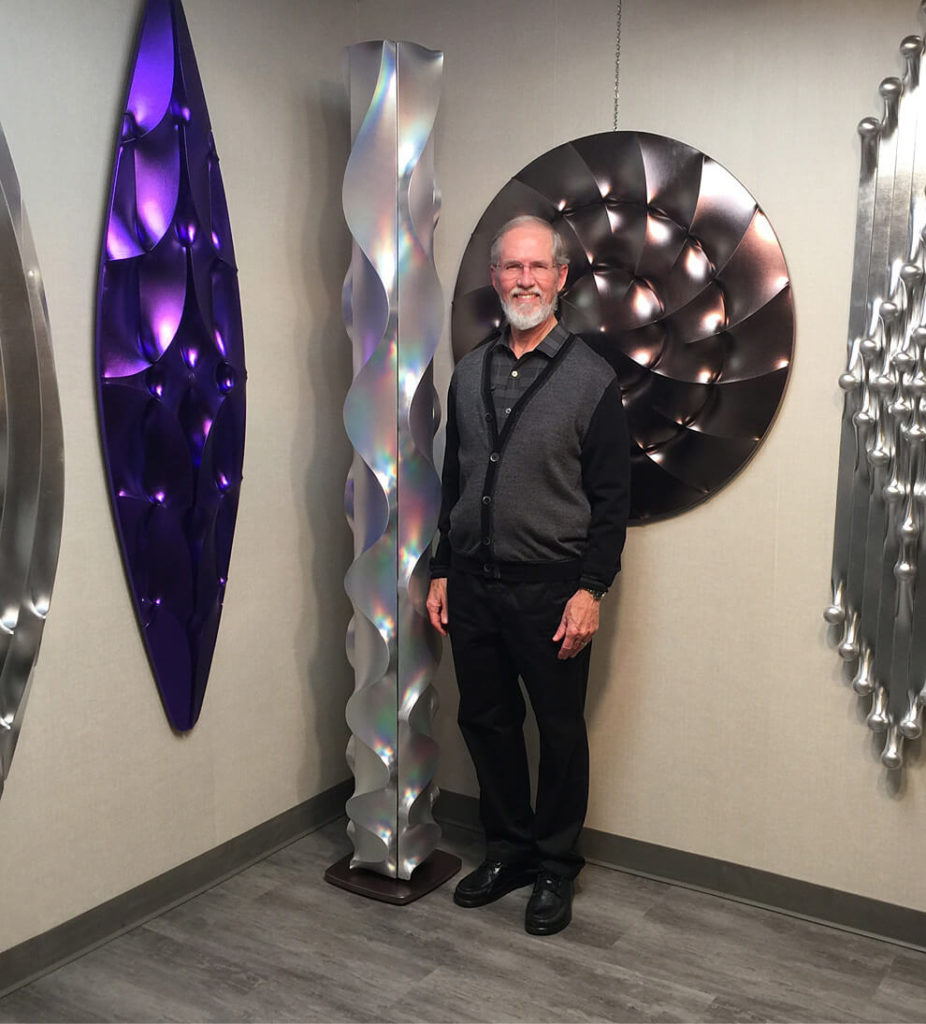 Artist's Statement
Three dimensional sculptural form has always been Tom's primary passion, whether in his past industrial design projects, or his current contemporary fine art efforts. His continuous study of the world's architecture has primarily informed his industrial design and fine art creations.
His "Reflection Series", "Undulation Series" and "Totem Series" of wall sculptures are part of a growing body of work, begun after Tom retired from the industrial design business in the fall of 2018. These pieces explore the possibilities of metallic fabrics stretched sinuously over complex understructure armatures. Tom feels that the dynamic curves and reflections of light, created when the stretch fabric bridges the hidden armatures, has myriad contemporary sculptural possibilities.
Tom also has done en plein aire ink and pencil drawings as he has traveled in the Americas, Europe, Japan and the Middle East. He has built a collection of over 100 of those drawings, always completed when he was at a specific place….never working from photographs.
Nature photography and architectural photography are also important to Tom, as he and his wife Jill travel. Hiking and kayaking have been important activities that have inspired his photographic creations.